I had so much fun with the first twelve paintings, I just kept going to cover a second year. Working in a small format is so conducive to ease: If one isn't going as well as it might, one can just start another one! And with oil painting, where one really needs to allow dry time, I can have several going at once.
Oil on particle board 26 x 23cm (10.25 x 9″) 300€ each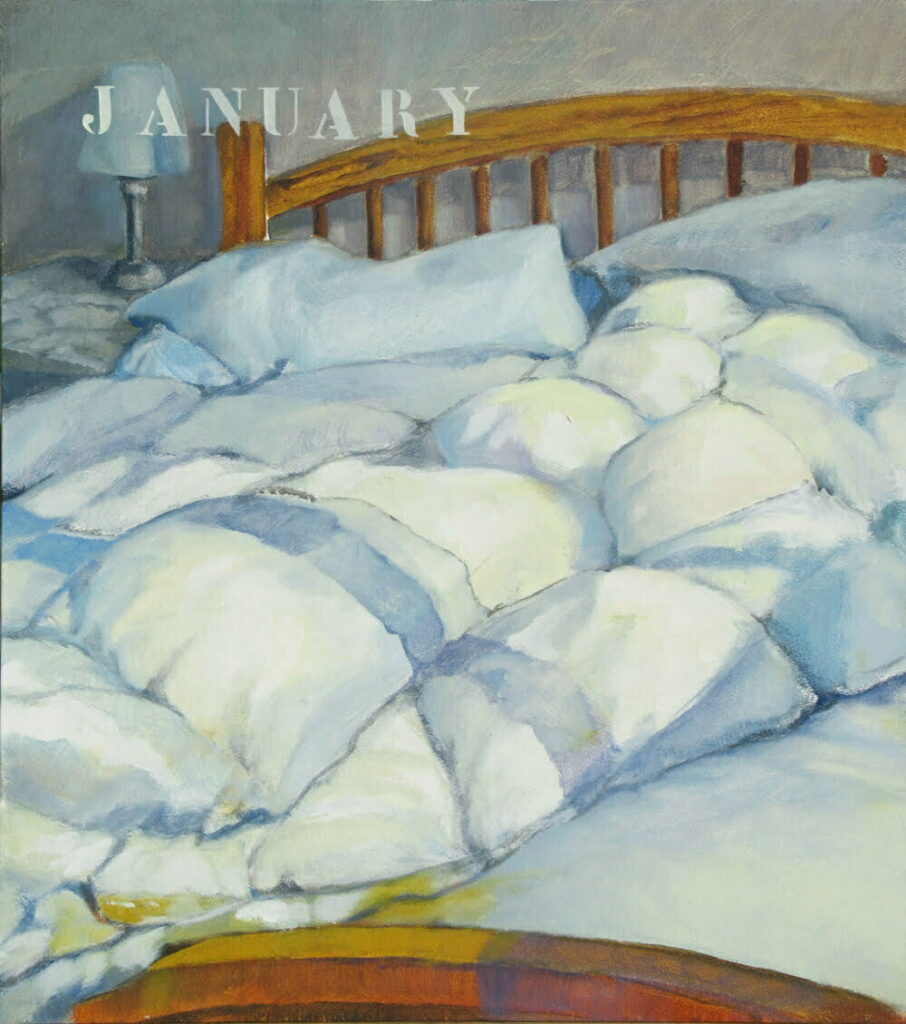 JANUARY II
Nothing like snuggling in bed with the shutters open to the sun (for on those horrible days of Mistral—the freezing wind hat rips down the Rhone valley—it's always very sunny).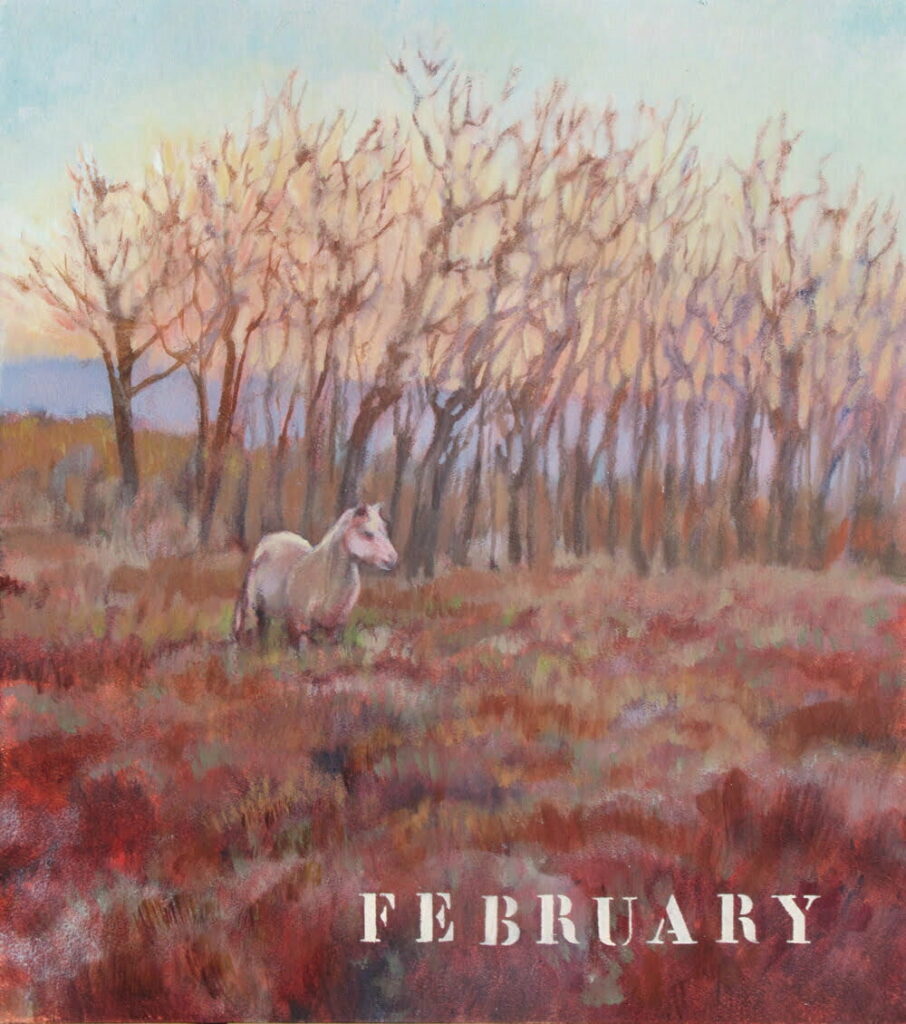 FEBRUARY II
At the delta of the once majestic Rhone river is a huge Nature Sanctuary called the Camargue. There are thousands of birds in the protected zone and I wish my great nephew, who is quite a budding ornithologist, could come to see the many varieties there. I went once (it takes a couple of hours from where I live) in winter and saw flocks of flamingos, which are there year round wading in the wetlands and lots of ducks. It was SO cold we weren't able to do the pleine aire drawing I had hoped for, but I was able to get photos, including some of the famous wild white Camargue horses walking free in the marshy fields of glasswort (Salicornia europaea)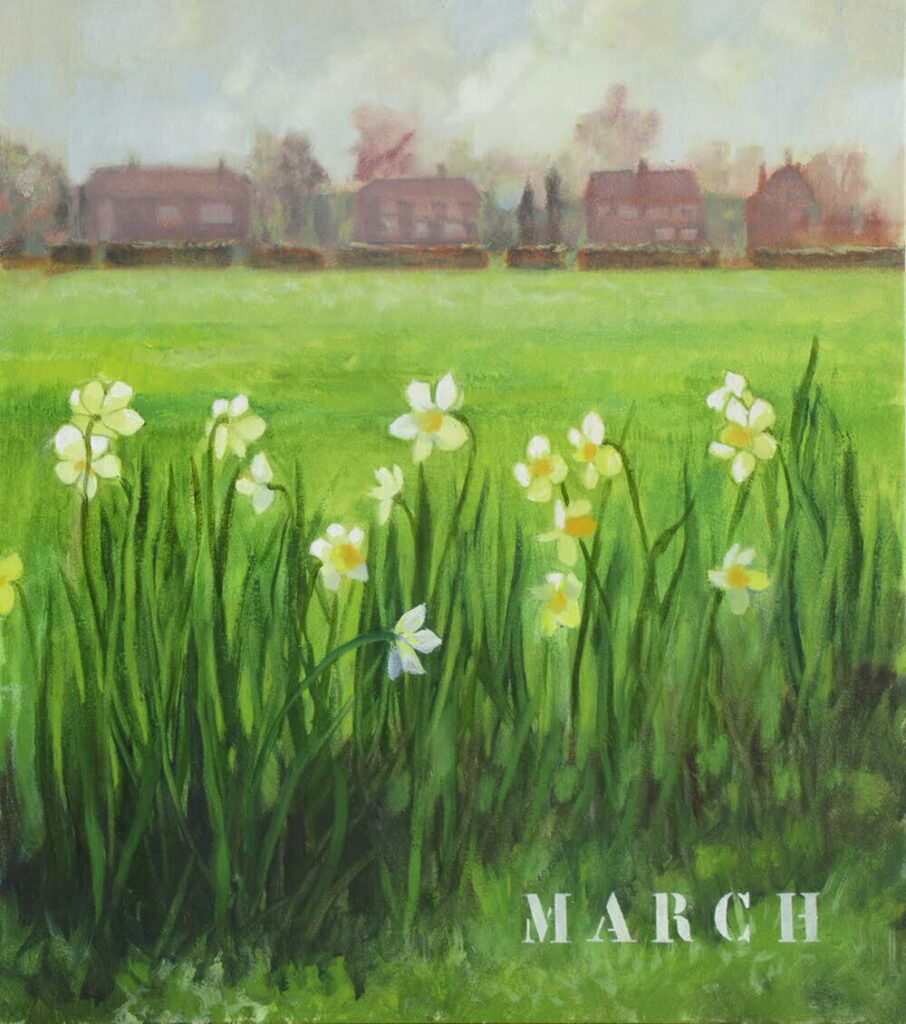 MARCH II
Once again in Buckinhamshire on a village green with the cute homes (but with far from cute value) lining the square. Daffodils—the best.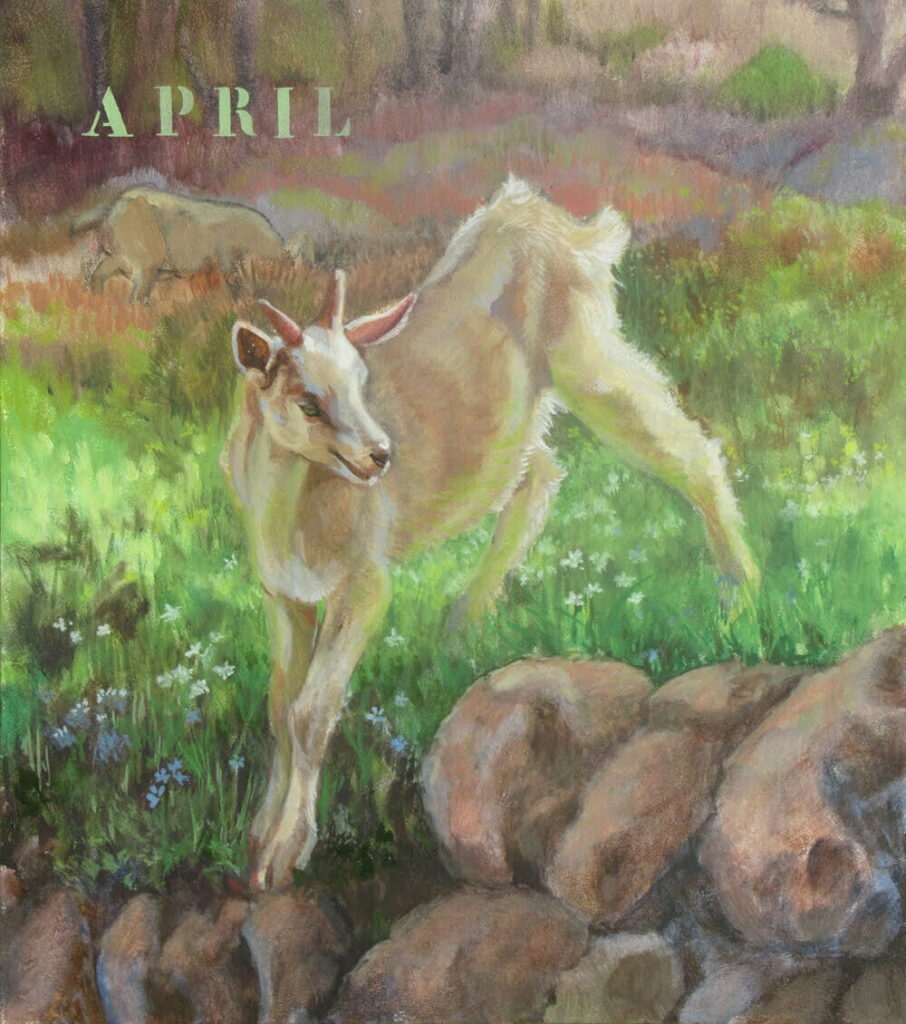 APRIL II
Just outside of Aix it gets very rural very fast. My friends live in Jouques, a pretty village a half hour away to the northeast. One spring, they reared a baby goat which had been rejected by it's mom (Nature can be so uncompromising), and the little thing enjoyed a youth of ease, even living indoors, and sitting on my friend's lap. It would follow her around like a puppy. It returned to the herd when no longer needing bottle feeding. Lucky for her, she was female—the males are dispatched shortly after birth (Husbandry can be so cruel). Even luckier, she was later adopted by someone with land who wanted a decorative animal to keep down the brush.
MAY
We can finally leave the windows open! I have this great view when I do my exercises in the morning.
JUNE
Lush English Countryside—brought to us by the estates of old, where dozens of National Park employees labor on the gardens established by the gentry long ago.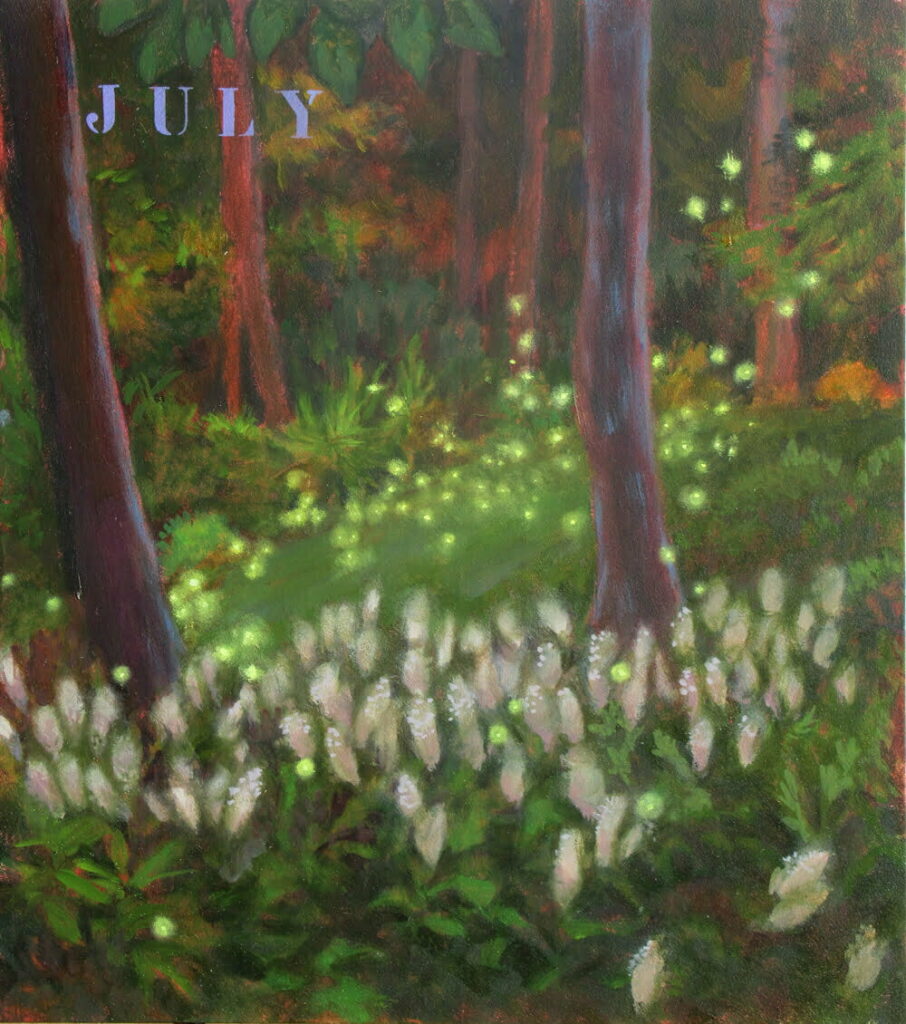 JULY
Not overly fond of school as a child, this was the month that most represented freedom. I was lucky enough to be of a generation where our parents mostly left us alone. And I could stay up late to catch fireflies, taking them in jars to bed for me to marvel at their phosphorescence.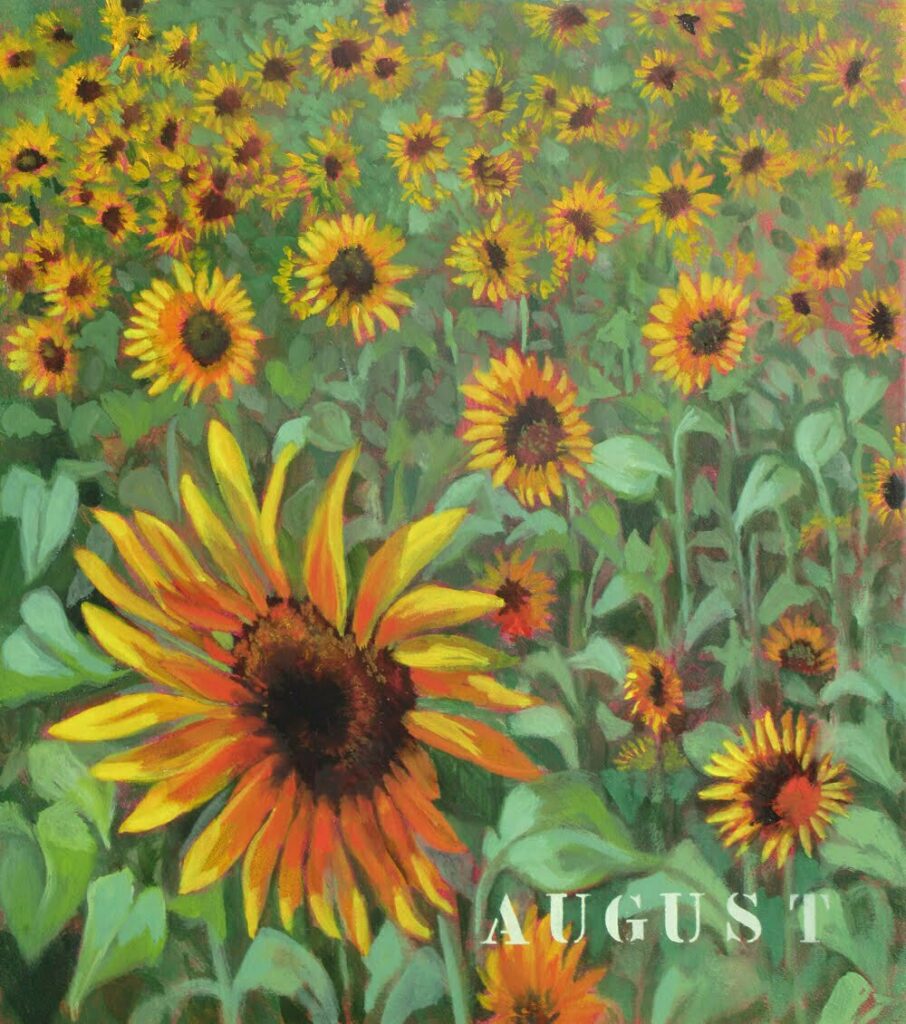 AUGUST
Summer in Provence is an intense time: intense heat, intense light, intense dryness. I wonder if poor Van Gogh might have had it easier in a kinder climate, even if he did like the high-contrast light.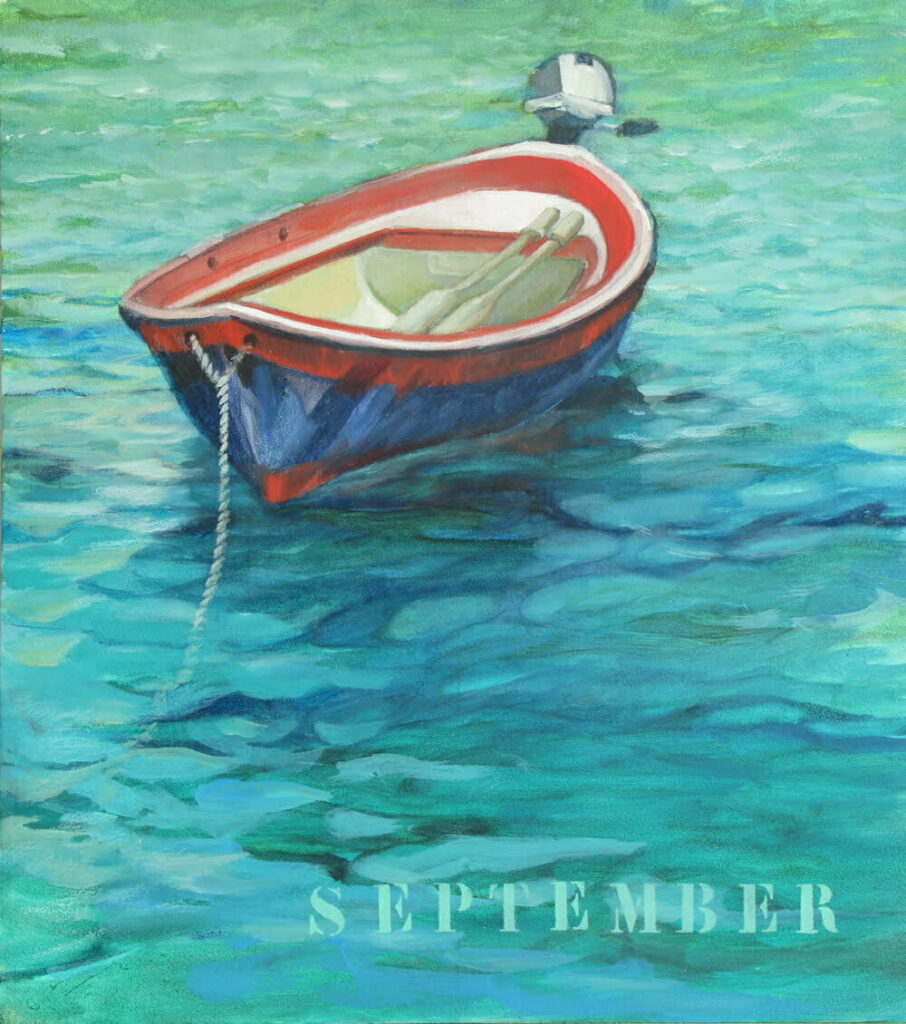 SEPTEMBER
A better month for visiting the Mediterranean, as families need to wrap up their holidays, leaving the beaches for the locals.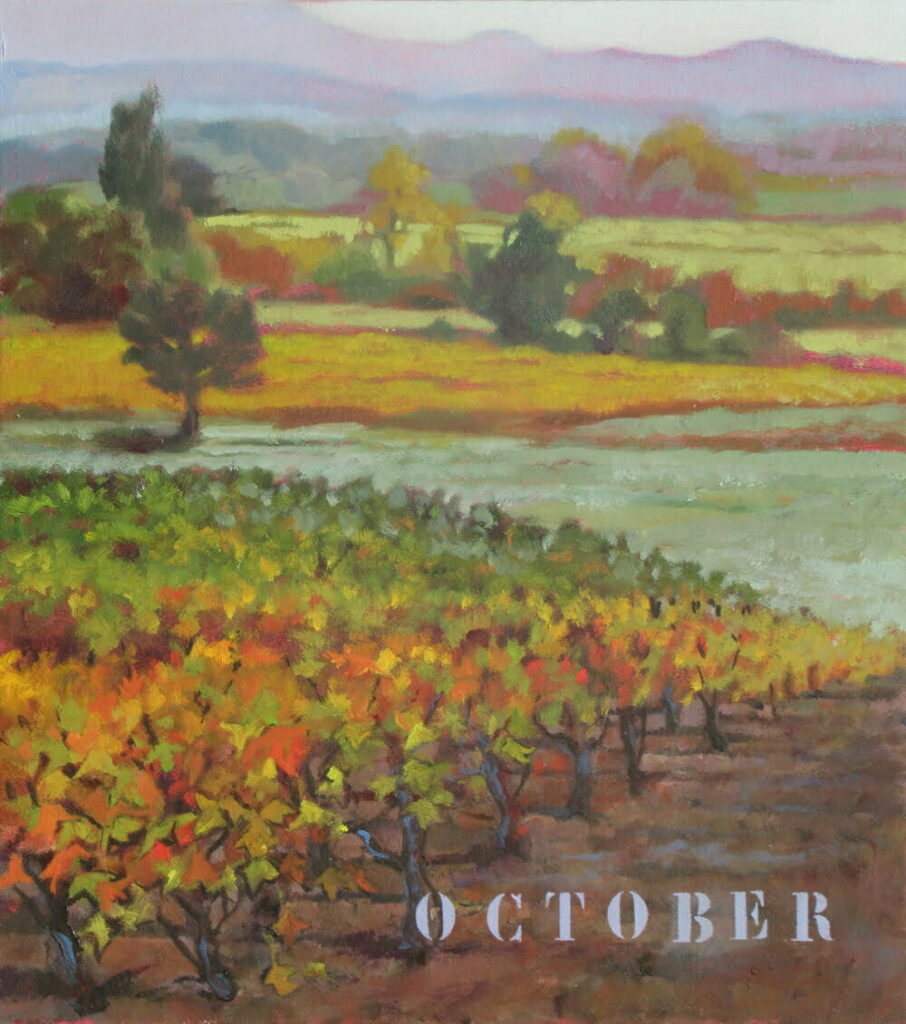 OCTOBER
Here in Provence, though the light is beginning to fail, we still have beautiful days, which are enhanced by the autumn color. Not so much the trees, as in New York and New England, where I once lived, but in the vineyards. Can't say I'm happy about this monoculture for the land, but at least grapevines are picturesque.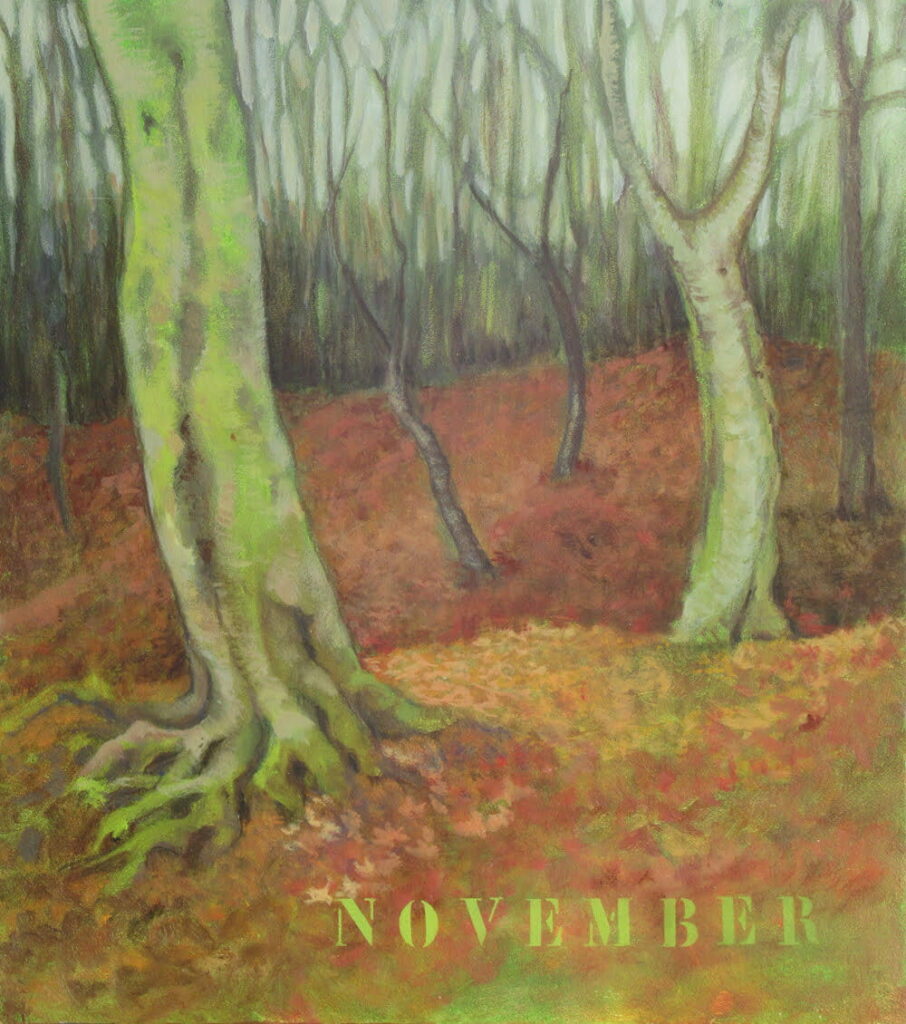 NOVEMBER
Having grown up in a heavily wooded suburb of New York, I always feel good surrounded by trees. These, with their nourishing and mercifully-undisturbed floor of leaves, were in an English suburban wood.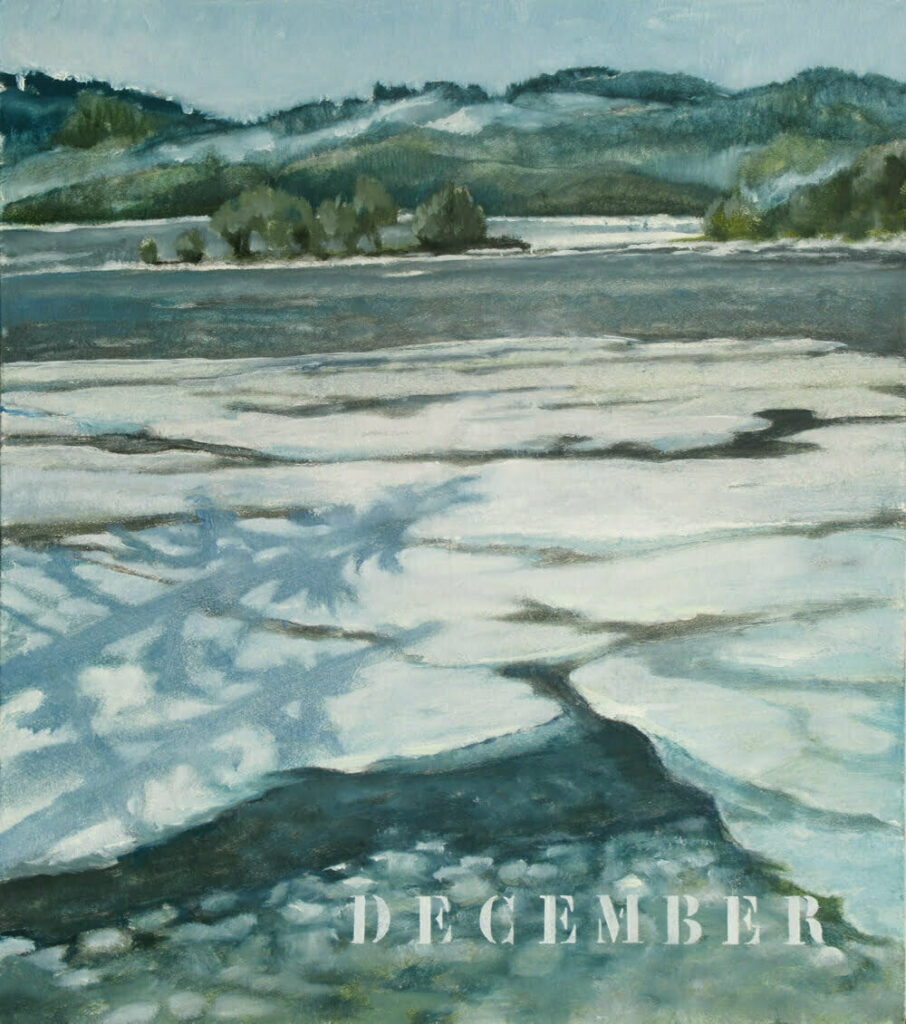 DECEMBER
My family is unfortunately dispersed over the US and Europe. But we try and join up as best we can. This image is from a visit to New Hampshire, where we rented a holiday house on a frozen Lake Winnepesaukee. I liked the look of the islands sprinkled around the lake, which reminded me of paintings by the great Finnish painter, Akseli Gallen-Kallela. Someday maybe I'll get up enough courage to visit Scandinavia in winter.