Aix's sister to the south, Marseille, is the one with the big personality. The Aixois stereotype is that of a well-off, sophisticated, well-dressed bourgeois. In contrast, Marseille is home to the colourful and colourfully-dressed "cagole", the girl with the loud mouth and vulgar comportement (but heart of gold, of course). The population has a lot of exotic components with significant representation from North Africa, Corsica and Armenia. I sense a lot of civic pride among the long time inhabitants. They like to make fun of up-tight, soft-speaking Parisians, who tend to harbour disdain for the Southern port. I overhear loud jokes and plenty of laughter whenever I visit Marseille, and this is guaranteed to lift anyone's spirits.
Last year, 2013, Marseille, along with Aix, was anointed "Centre Capitale de la Culture", and they sure spruced up the town for all the festivities held throughout the year. Tons of money was injected into the urban centre, to an outstanding result: Now, along the Vieux Port, a tourist can mount the beautifully restored Fort St Jean and enjoy a 4-star view. Handsome lounge chairs encourage us to slow our sightseeing to the local pace along the ramparts.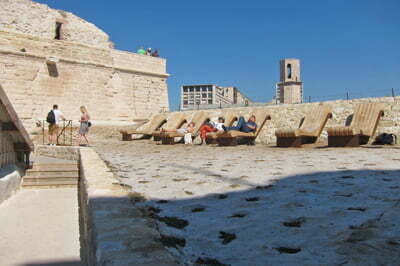 North of the old port, which used to be home to commercial port activity (under overpasses which ruined the site), has been cleaned up, and now houses the spectacular Mucem museum (Museum of European and Mediterranean Culture), and the less successful Musée Regards de Provence. They are currently working on restoring and modernising the area around the Cathedral, a bit farther north. Now the adjacent old "Panier" (basket) district, all windy streets and stairs is opened up, and attracts hipsters and artists.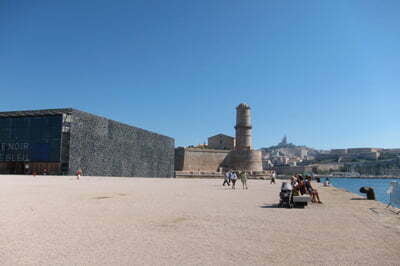 Each time I visit Marseille, I plan to do all sorts of things, but end up spending the whole day hanging around the Vieux Port, taking in the sun and sea. Spring 2014 is so mild, I managed to get my first sunburn of the year in early March.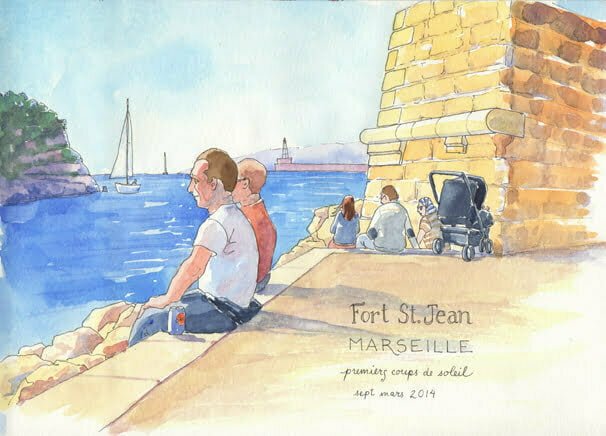 I have been advised to avoid eating at the many cafés and restaurants that line the Port (though they sure make a great venue to enjoy an ice cream or glass of rosé, despite the tourist prices), so I went to the nearby Place Aux Huiles for a simple lunch.