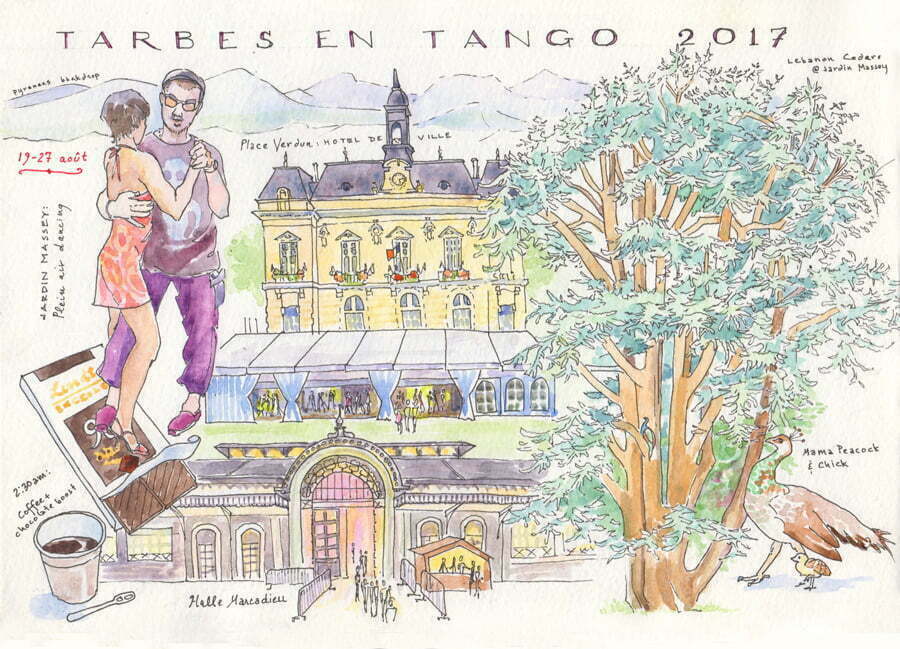 I finally cranked up enough courage to participate in the famous festival of tango— this year their 20th anniversary. I attended only 4 days' worth, arriving on Thursday and leaving just before the despedita (farewell dance) on Sunday.
Going to a tango festival is like taking a trip to a far-off, yet comfortingly familiar, land in a different time zone.
Right off the train, I went to the beautiful Jardin Massey, with its glass conservatory and majestic Lebanon cedars, where organisers had set up a stage that was DJ'd from 2:00-6:00 pm every day.
Despite the heat (it ranged from 85°-100° every day) the piste was packed: we could barely move, and the cavaliers were obliged to use their best technique for navigating the dance floor.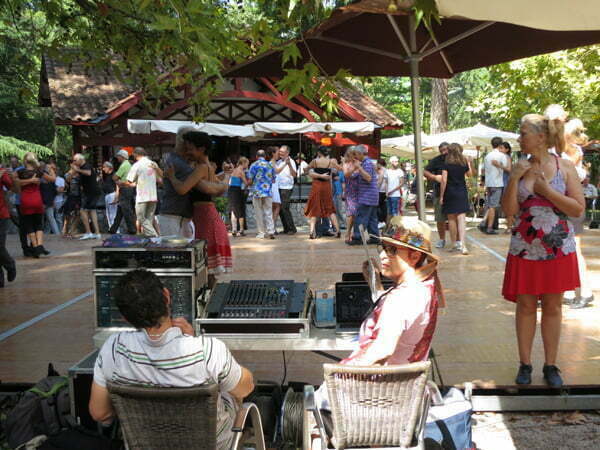 After an hour and a half, and completely drenched in sweat, my friend Edna and I retreated to the apartment she had rented in the village to eat and rest up for the evening to come.
Around 11:00 pm we arrived at the Halle Marcadieu, which is a gigantic covered market, converted to a dance hall for the festival. Bleachers line three sides, and a stage for the orchestras is on the fourth.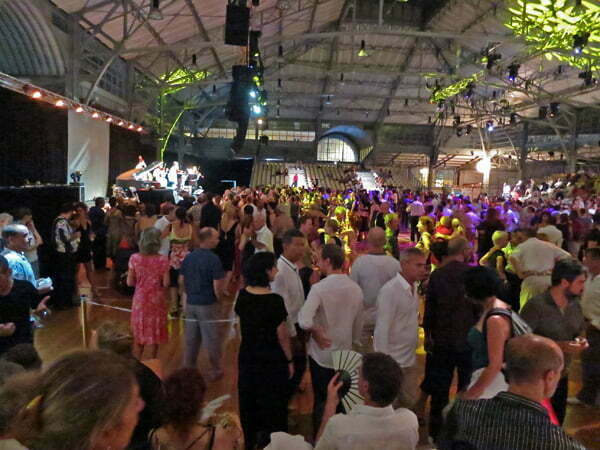 Thank goodness for me, Edna is an aficionado of tango festivals, and she showed me the ropes: the best place to sit, the protocol (beyond the usual quite baroque protocol of a regular Milonga). I looked out over the sea of about 1,500 people in search of someone I knew, just to get started as it is important, if one wants to be invited to dance, that they see you can dance OK. There were a handful of people from my region, and dancing with one of them primed the pump for a busy night. The "evening" begins at 9:00 with a performance (spectacle), followed by a live orchestra, and later DJ'd until 5:00 am.
I got up around noon and went exploring for a meal and to see the village of Tarbes. From the town, one can see the nearby Pyrenees, whose beauty made me want to visit them for a hiking holiday. The town itself is odd in that there are a few grand buildings, such as the Gendarmerie, Hôtel de Ville and cathedral, and is graced with the formal beauty of the Jardin, yet in between these proud structures there isn't much. Like so many villages in France, the lack of opportunities for its inhabitants drains a rural village like Tarbes of its vitality.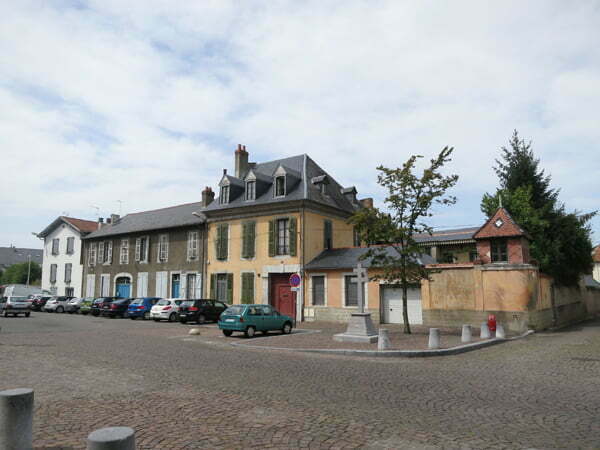 This is a pretty street, and one can see the monument for the Resistance movement of World War II. Positioned as it is so near to the Spanish border, this village made a big contribution towards getting refugees to safety as well as blowing up railway lines and other brave actions.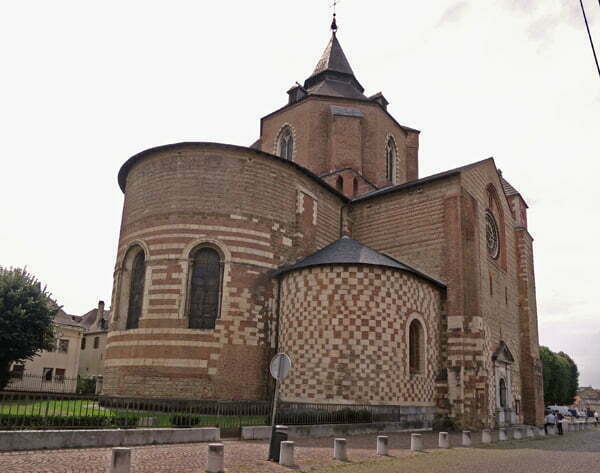 Wandering around, I peeked into the Halle Marcadieu, where dancers were rehearsing for their spectacle (a blend of hip hop and tango) that night.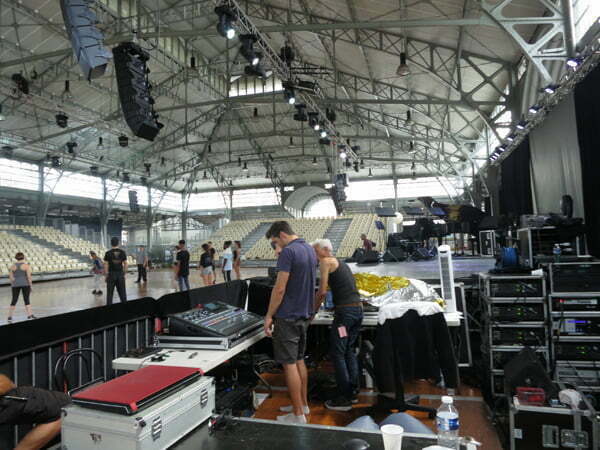 A stroll around the village doesn't take long, and I was able to check out the Milonga at the Place Jean Jaurès (the Hôtel de Ville), where organisers had set up a tent for a dance from 2:00- 6:00.
Here are some tangueros & tangueras relaxing in front: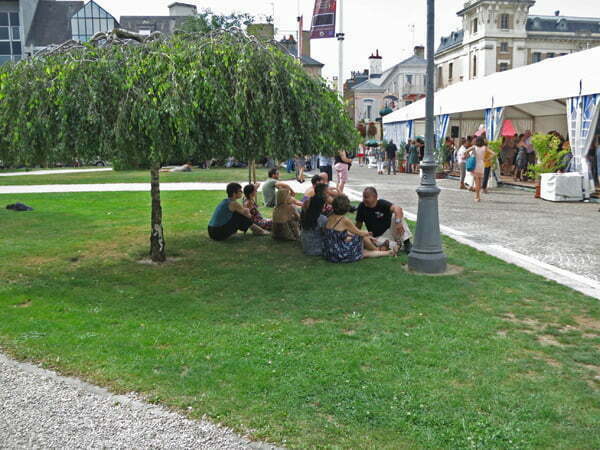 Friday afternoon Edna and I were joined by Sophie, the third person of our party. Friday night there were two different venues; Edna went to a nearby village for traditional music, and Sophie and I went back to the Halle Marcadieu for an evening of nuevo tango, with contemporary music by a band and DJ.
If I return to Tarbes next year, I will take advantage of the excellent classes that are offered; the ones I wanted were filled by the time I got around to thinking about signing up. In addition to the dance classes, Tarbes offers musical instruction in the tango repertoire. We all were treated to a fabulous concert on Saturday by the stagières. (That's my dance teacher, Dario, with the bandonéon! And check out the little kids holding their own:)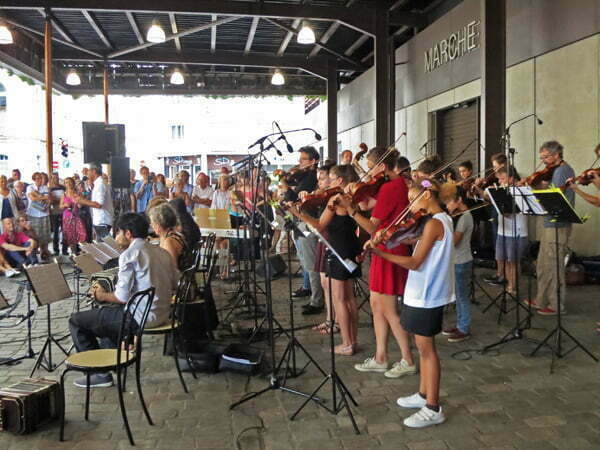 They were so good, many people took to the nearby street to dance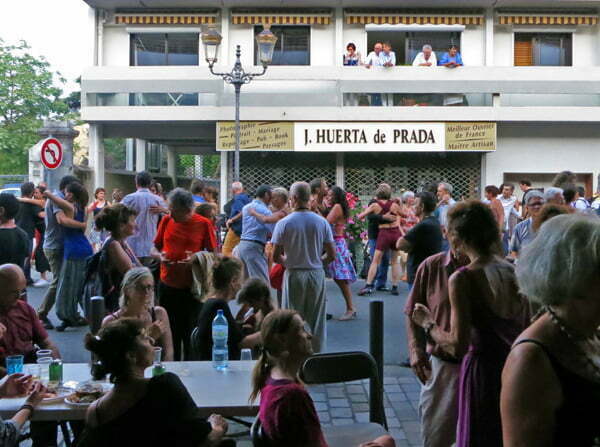 On Sunday, the last day of the festival, the Milonga started at 1:30, and included a Chacarera set. I don't know this dance yet, but it looks easy to learn. A more folk-y kind of a dance, it is set up like an old-fashioned reel.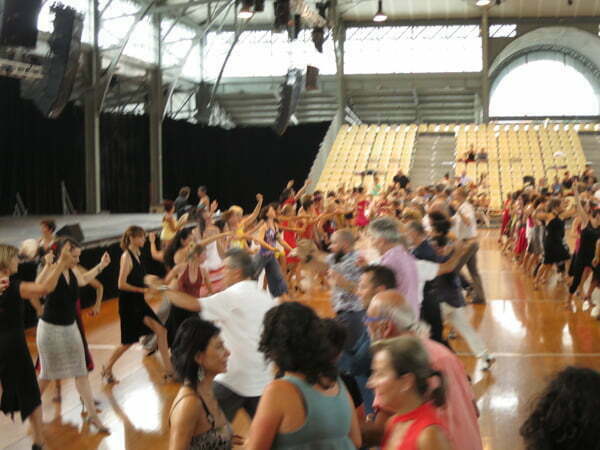 It took me a couple of days to get back into a diurnal rhythm, but I plan on going to Marseille as soon as possible for a local Milonga.