Back in Provence after 7 days on the Emerald Isle. My California artist friend, Susan Kirshenbaum, agreed to join me for a week of drawing and discovery in this loveable country. We chose the spot we stayed in based on images posted on Google satellite: the village of Kinsale had everything: proximity to the ocean, river and marsh; only 1/2 an hour from the Cork airport, and lots of walkable day hikes, for neither one of us wanted the expense and stress of renting a car and then driving on the "wrong" side of the road.
All the clichés I had heard about the country seemed to be well-deserved: Yes, the people were super friendly to us tourists, yes it is dazzlingly green, yes the pubs are great places to hang out; and in fact there is a huge population of redheads with gimlet green eyes.
Each day we our saddled up with backpacks loaded with various drawing materials and cameras, and ventured out from the row house we rented on vbro. Sometimes it was hard to tear ourselves away from our neighbours' adorable white cats. Though it might have been nicer to stay right in the village, I became quite fond of the daily climb past one of Ireland's oldest churches to get us down into the village. The St Multose Church, first built in 1190,  looks just like a church, so I won't bore you with it's photos, except for the nearby Victorian-style tin sculpture that delighted Susan and me every time we passed by.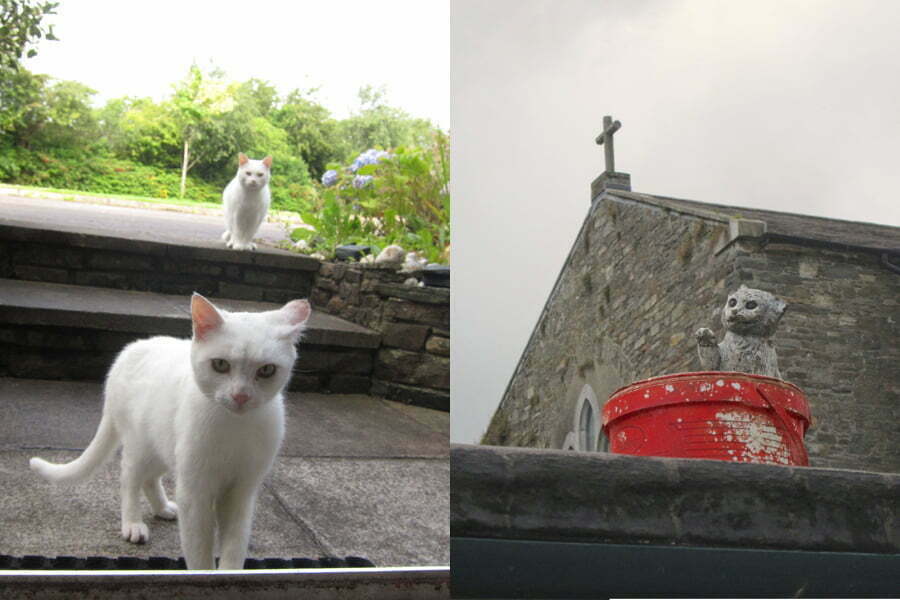 For me, Ireland is about rock and grass, grey and green. Lichen adorns the ubiquitous stone walls, which I believe is a combination of shale or slate with a local limestone that has nothing to do with the limestone here on the Mediterranean. Note the fisherman's knit sweater on the indigenous fellow walking his Irish setter (of course).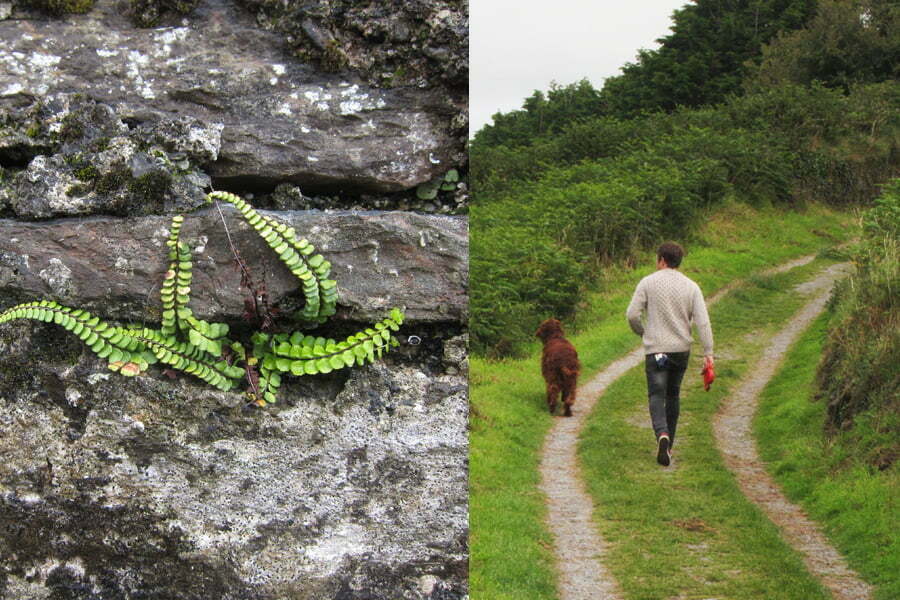 The first day out we hiked to the defunct Fort James. There are two big forts framing the harbour—legacy of the English occupation. The walls, too are a legacy of this: Finding a valuable harbour like Kinsale, the English set about preventing locals from having access: hence the walled towns such as Kinsale, Derry, Cork, Galway and others. (Within the walls, St Multose is Church of England) The history is grim, and evidence is right there to remind you of it.
Here's the view from the Fort site, with a photo of my kit: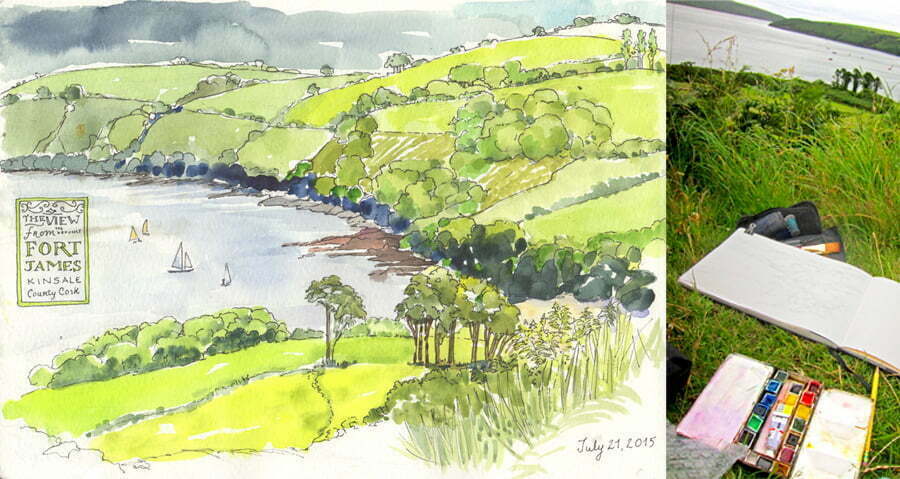 Coming back from Fort James was easy, because we ran into a ferryman, who kindly alerted us, taking shelter in the nearby pub, of his departure. By the way, It seemed to me that there were lots of ruggedly handsome men in Kinsale, one here taking a break in front of The Greyhound, one of the famous Kinsale pubs: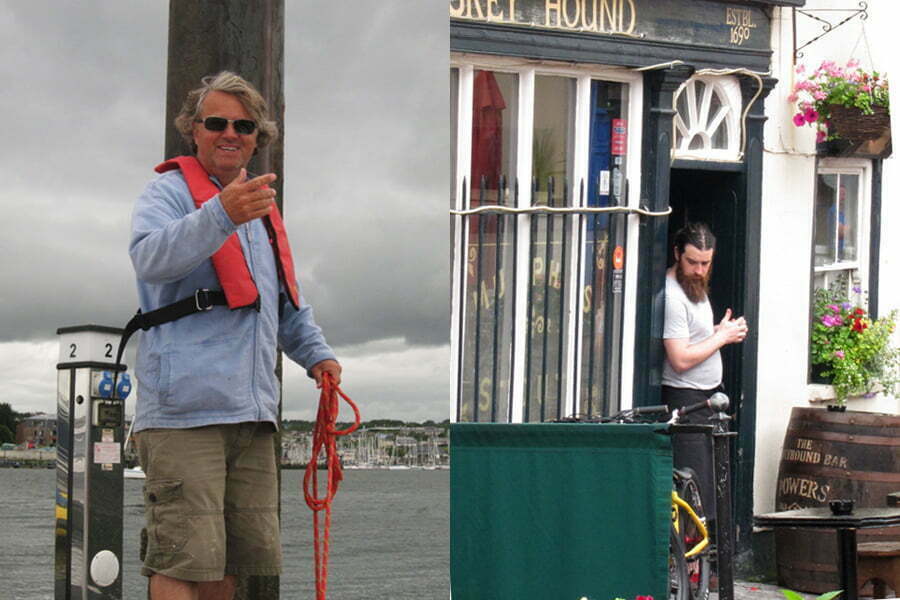 Speaking of pubs, they were a big element in our visit: Not only was it handy to have dry shelter in which to draw during the rainy moments, they provided a way for us to chat with locals, listen to music and have dinner or lunch. I really tried to like the beer/ale/stout/cider etc but just couldn't. I did develop a fondness for Red Breast Irish whiskey, a small tumbler of which I would nurse for a very long time just to better fit in. Here's Susan at the Bulman: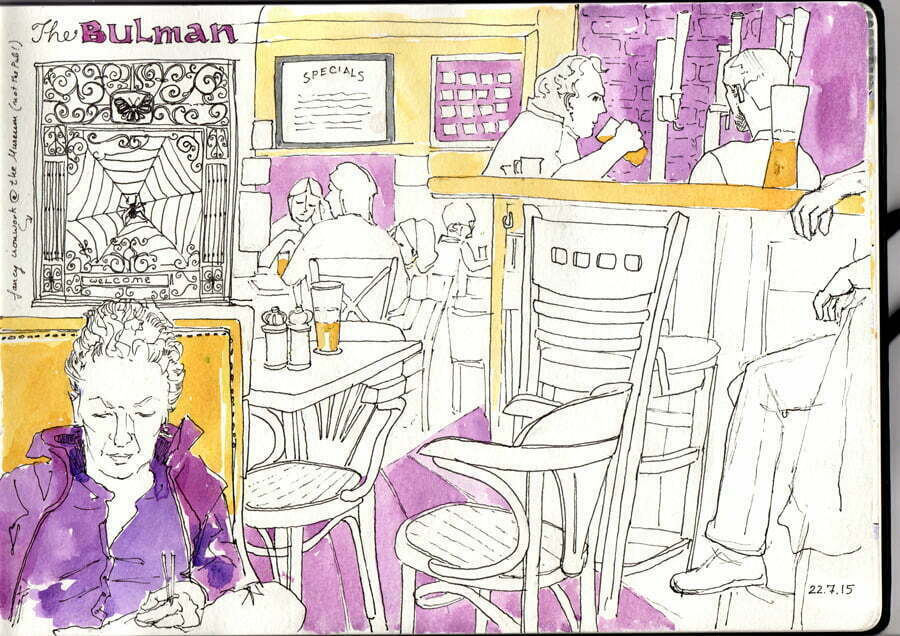 We ate well in Kinsale, a town that prides itself on its culinary offerings. For someone like me, who loves her dairy, Irish cream was a special treat. I loved the dark soda bread, and though the fruits and vegetables were a bit perfunctory (except for lovely lettuce and berries) the fish was always fantastic. I ordered it every day, whether it was fish (cod) and chips, filet of haddock roasted chez nous, or perfectly cooked tuna at Fishy Fishy, a nice restaurant recommended by my good friend John Loose, I wasn't disappointed.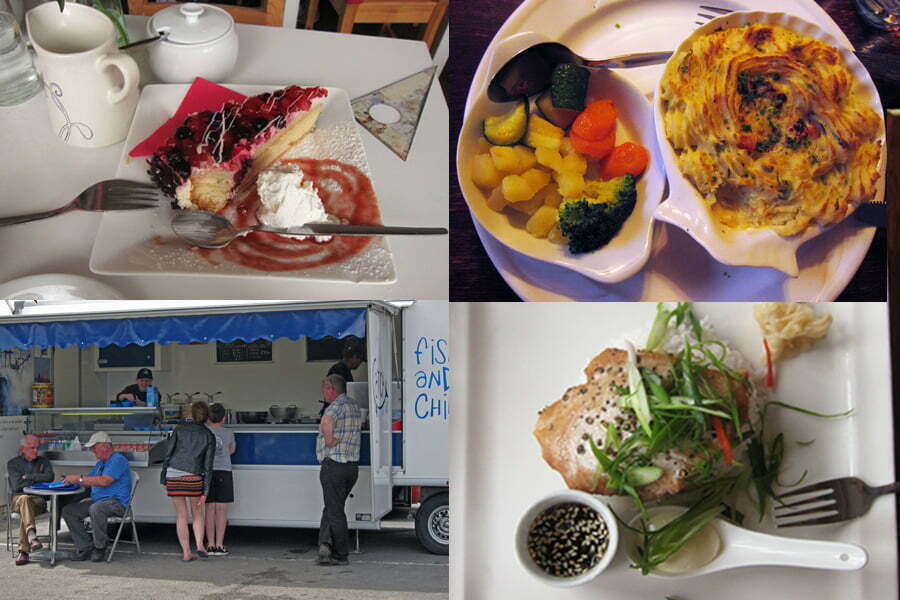 Our exploration of local fauna was limited to playing with street cats and petting other folks' dogs, and we didn't see any of the wildlife depicted in this hand-painted sign (sponsored by the Kinsale Tidy Towns Committee). I did do a sketch of the charming Glasslyn Veterinary Clinic, which looked like a location for a TV series.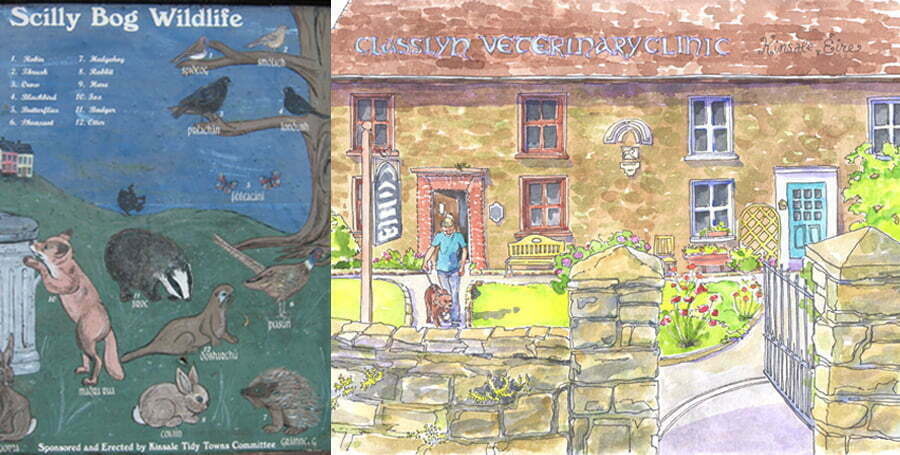 One day we wandered off in search of the ocean' edge and ended up in Sandy Cove. A hardy swimmer braved the water that I found very easy to resist. During the hikes, I couldn't get enough of the dramatic, ever-changing skies, and took endless of reference photos for future sky series.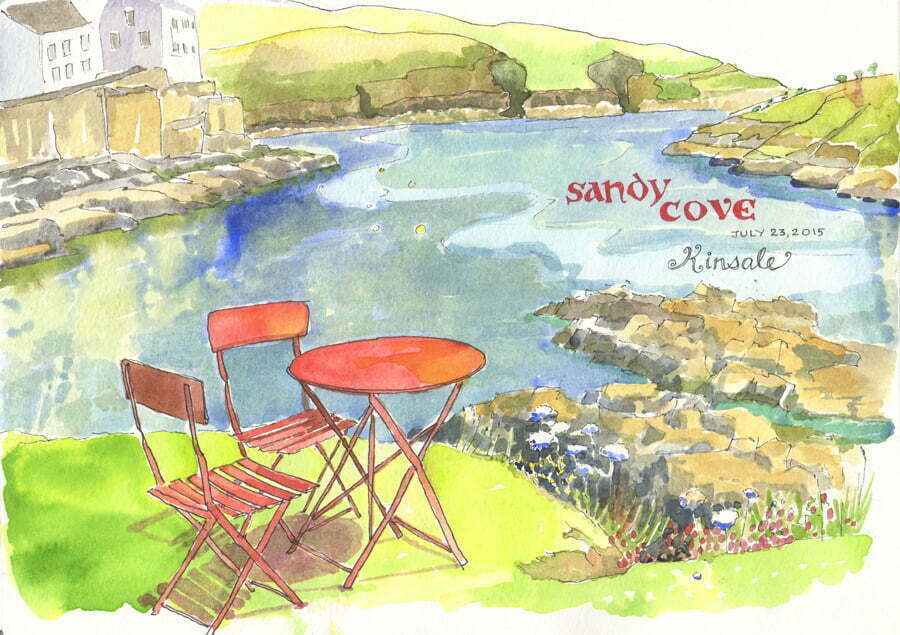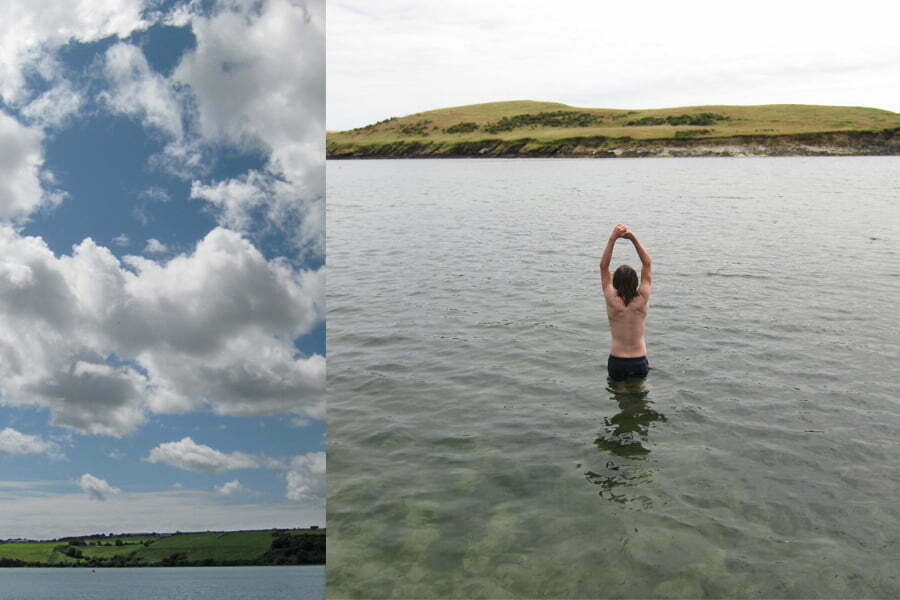 I don't know of any Irish blood that runs in my veins, but I felt very at home in Ireland and will return. For some reason the light of those northern skies have a powerful appeal for these eyes, and now that I live in sunny Provence, a week of chilly drizzle is no big deal.